What is the the Times Table Speed Test?
Our times table speed test mimics the Department for Education's new Year 4 Multiplication Table Check (MTC).
The MTC is an online check (there is no paper version) completed during a three week period in June, by pupils in year 4. The school can decide what device type – tablet or computer – pupils will use to complete the check. The MTC is different for each and every child, as the test features a set of 25 computer generated times tables questions.
Pupils have 6 seconds to read the question, understand it, and enter a response. There is then a 3 second pause before the next question is shown.
With 9 seconds for each question, and 25 questions, the test will take 225 seconds or 3 minutes 45 seconds.
Questions will be made up from the 2-12 multiplication tables. The table shown below gives the maximum and minimum number of questions that will be presented to the pupils.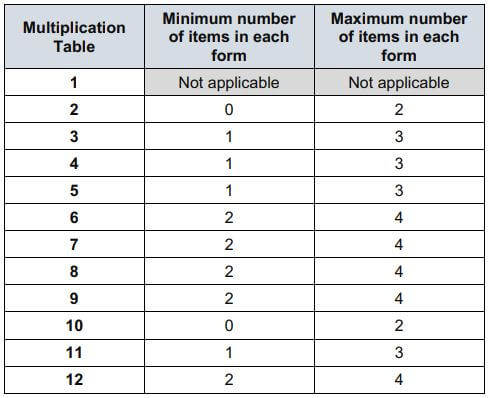 Students Need to Practise Answering Questions at Speed
As seen with the pilots in June 2019, a lot of children struggled with entering the answers in the strict time limits. By practising with MTC with Emile students will become more comfortable with what they have to do and the speed with which they have to answer the questions.
MTC with Emile now allows teachers to select the times tables students practise.
If you want to start your year 3 students with their 2, 5, and 10 times tables, you can! Check they are secure in recalling their times tables in the prescribed time limits and are used to the system.
Don't Forget Times Tables with Emile!
With your free access to our MTC resource you also get 14 days FREE access to Times Tables with Emile, where your students can compete against one another, and other classes, to see who is a Master of Times Tables. They can explore the Planet of Meso and discover the true power of times tables.
Times Tables with Emile includes an assessment module to determine students' strengths and then gives them appropriate games and activities. They can play against friends or against students from across the world. For more information please see here.
Free Times Table Resources

Expected Results from the MTC Pilot
An open spreadsheet was setup and at the time of writing over 240 schools had entered their results from the DfE pilot in June 2019.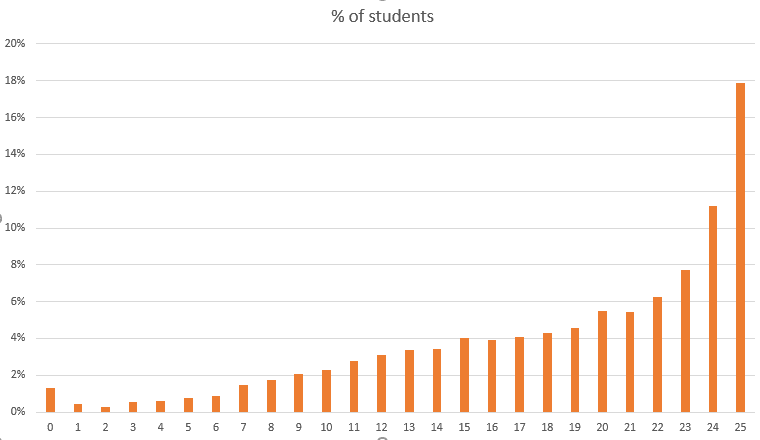 The chart above shows the percentages of students achieving a mark. By far and away the most common score was 25/25 with just under 18% of students who did the check achieving full marks.
The chart above shows the percentages of schools achieving an average mark. So most schools were clustered around the 16-21 range. No school averaged 25. One school averaged 10 and one school averaged 11.
The top 13% of schools had an average of between 22 and 24.
The bottom 14% of schools had an average of between 10 and 14.
The average score for a school was 18.4.
Letter for Parents Explaining the MTC.
We have drafted a letter suitable for teachers to amend and send home to their parents.
MTC Worksheets
We have generated a number of example worksheets for teachers to use in class.
MTC Powerpoint Presentation for Parents.
We have designed an unbranded powerpoint for teachers to use to explain the MTC to parents.