According to the Oxford English Dictionary, a preposition is a word governing, and usually preceding, a noun or pronoun and expressing a relation to another word or element in the clause. But to make your pupils understand the idea, explain to them that prepositions are words that link nouns, pronouns and phrases to other words in a sentence.
When describing the position of something, the time when something happens or how something is done, we use prepositions.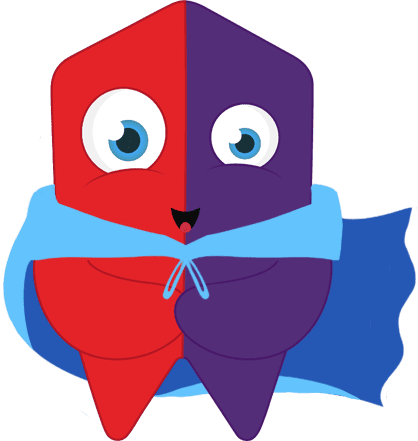 Functions of Prepositions
The function of a preposition is to demonstrate the relationship between two words in a sentence, normally between a noun, verb or adjective and a noun (including proper noun), pronoun, or gerund (verb in noun form). For example:
I ran into the classroom.
The lady beside Peter.
She spoke to him.
He is passionate about swimming.
I went to Singapore.
A preposition is normally followed by a noun or pronoun and together they form a "prepositional phrase" (about swimming, into the classroom, beside Peter).
Prepositions have no settled form. The most common prepositions are one-word prepositions (on, before, into), however, there are two- or three-word phrases known as complex-prepositions that we use in our daily lives (according to, along with, in spite of). One thing to notice is that you should make sure that your pupils know the differences between "Complex prepositions" and "prepositional phrases".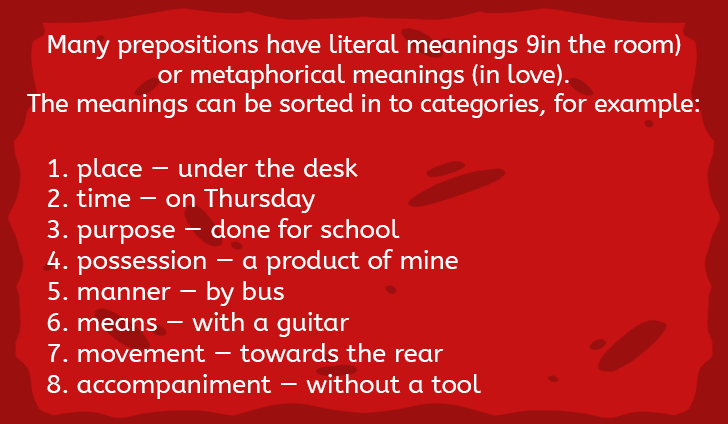 Some prepositions belong to more than one category, for example "on the table/on Saturday, with his wife/with a hammer).
Metaphorical prepositions are those which are used originally to express space, but then expand their meanings to other functions such as means, manner, etc. They are metaphorical since they have a link to the original meanings but extended based on the idea of polysemy.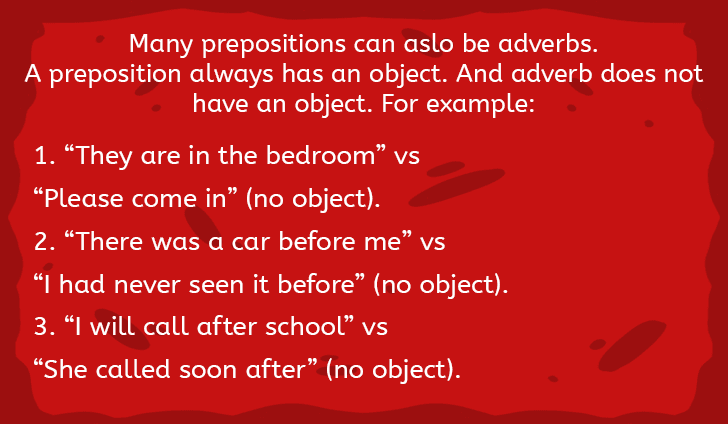 There is one very simple rule about prepositions: a preposition is always followed by a "noun" (occasionally the noun may come before the preposition). It is never followed by a verb.
This is a great active learning game!
Ask your pupils to spilt up into pairs and explain that you are going to call out different prepositions that the pairs have to act out together.
This can be as simple as "In front"/"Behind" can be done with two pupils, one standing behind or in front of the other.
The pair to act out or recreate the correct preposition in a fun way wins the round. Keep a tally and the team/pair with the most wins – wins!
OH NO! Those pesky ghosts.
Explain to your class that some troublesome ghosts got into the classroom last night and have misplaced some items, and that you need your pupil's help to put them back…
For this activity you will need to do some preparation of moving objects around the room for example: Moving the clock behind the door, Plushie on your chair, Coffee mug on the bookshelf etc.
Pupils can then investigate in pairs, taking notes of what the "ghosts" have moved, pupils can then use "prepositions of place" to make sentences.
BONUS: Assign a pupil to be the "ghost" and ask them secretly to make changes to the classroom objects.
Time for your pupils to get creative!
Ask your pupils to describe their ideal bedroom in pairs.
Then get your pupils to write a detailed description of their ideal bedroom using prepositions of place, to give to an interior designer by using the worksheet provided they can also draw their ideal bedroom aswell.
BONUS: If some pupils feel comfortable have them come up to the front of the class and explain their ideal bedroom while using prepositions of place.
This activity can be done on the whole school premises or within the classroom if your classroom is big enough. Put children in groups of fours or fives, create several clues, give each small group of students one handout with instructions, and take a picture at each point on the scavenger hunt.
Clues and instructions can be like:
Walk towards the school gate. There is a poster of a concert on the wall as you walk out of the building. Take a picture of yourself with the poster.
Along the playground, you will see a statue of a penguin. Take a selfie with it.
Assign pupils into teams of four.
Explain that each team must work together against every other team to come up with sentences that include the prepositions that are displayed on the board. Such as: on, in, under, in front of, into, above, at, below, between.
Teams need to create as many sentences as they can in a specific time frame with no mistakes to win points.
The team with the most points wins!
If you are tired of making props for activities, or you just need one activity that can do all the tricks and get all of your pupils engaged(even the most inactive ones), then you need Grammar with Emile.
Being an online resource it's now easier than ever to Assess, Practice and Achieve with Emile.
Our model will automatically assess a pupil's current ability on given subjects.
Assign the proper level of practice questions for your pupils to do.
You can then sit back and wait to see your class's individual insight into their learning and development as they practice more with better marks and improved overall understanding of a subject.