With the Multiplication Tables Check (MTC) coming in next June, we've put together a little MTC guide due to the complexity in setting the check-up and some issues schools have encountered.
Schools will administer an on-screen check to assess whether pupils are able to fluently recall their multiplication tables up to 12, through a set of timed questions. Pupils will answer 3 practice questions before the check begins.
The check consists of 25 questions. Pupils will have 6 seconds to answer each question, with a 3-second pause between questions.
Details about the content of the test can be found here.
From 1st April 2019, pupils can access a "try it out area".
As part of the pilot, teachers need to:
1. A school administrator needs to register pupils to take the check by signing in to the NCA tools
2. Generate a school password and PINs for students on the day you intend to have your students practise the test (the PINS and password only last for 24 hours)
3. Complete the headteacher's declaration form (HDF)
4. View the results (accessible only after 1st July and after submitting the HDF)
By default, only NCA Tools super-users will have access to MTC initially, however they will be able to give permissions to other users within their school once logged in.
The options on the homepage of your school's test page are:
– Pupil register
– Group pupils
– Pupils not taking the check
– Access arrangements
– Try it out
– Password and PINs
– Start the multiplication tables check
– Restarts
– Headteacher's declaration form
– Results
There will be instructions below each option, but there are a few areas that we need to pay extra attention to.
This is one of the major function on the official website that teachers can use to help their pupils. It allows teachers and students to try the entire process of the check to have a better understanding of everything.
Teachers can generate password and PIN for their schools, print that information out, guide their pupils through the check, and be more specific when helping pupils preparing.
Ensure pupils use a 'try it out' PIN to access the 'try it out' area. If they sign in using a 'start the MTC' PIN, they will access the live MTC instead.
We would also advise having students practise using
MTC with Emile
. MTC with Emile is free and mimics the check almost exactly (we don't use 24 hour PINs, but usernames and passwords). It allows students to become comfortable with the interface and the system allows teachers to track progress for each student. It also allows pupils to practice particular times tables and adjust the timings.

Students Need to Practise Answering Questions at Speed
As seen with the pilots in June 2019, a lot of children struggled with entering the answers in the strict time limits. By practising with MTC with Emile students will become more comfortable with what they have to do and the speed with which they have to answer the questions.
MTC with Emile now allows teachers to select the times tables students practise.
If you want to start your year 3 students with their 2, 5, and 10 times tables, you can! Check they are secure in recalling their times tables in the prescribed time limits and are used to the system.
Free Times Table Resources

Expected Results from the MTC Pilot
An open spreadsheet was setup and at the time of writing over 240 schools had entered their results from the DfE pilot in June 2019.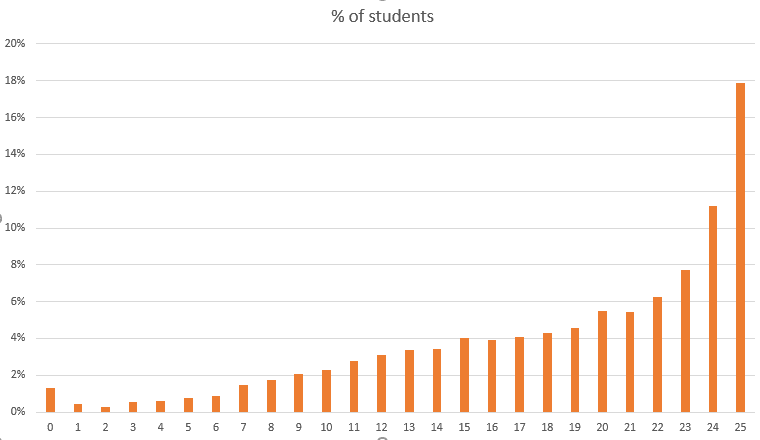 The chart above shows the percentages of students achieving a mark. By far and away the most common score was 25/25 with just under 18% of students who did the check achieving full marks.
The chart above shows the percentages of schools achieving an average mark. So most schools were clustered around the 16-21 range. No school averaged 25. One school averaged 10 and one school averaged 11.
The top 13% of schools had an average of between 22 and 24.
The bottom 14% of schools had an average of between 10 and 14.
The average score for a school was 18.4.
Letter for Parents Explaining the MTC.
We have drafted a letter suitable for teachers to amend and send home to their parents.
MTC Worksheets
We have generated a number of example worksheets for teachers to use in class.
MTC Powerpoint Presentation for Parents.
We have designed an unbranded powerpoint for teachers to use to explain the MTC to parents.